Hailing a Cab
Recently due to taxi licensing regulations the number of taxis in Dublin has increased from 2,000 to around 16,000! This makes finding and hailing a taxi in Dublin fairly easy. There are two different types of taxis in Dublin, Licensed taxis and hackney cabs. Hackney cabs are unmarked cars that must be hired for a fixed rate from a hackney office, typically a small walk in shop on any of Dublin's main roads, with a sign reading "cabs". Licensed taxis in Dublin use metered rates and can be found at a taxi stand or simply by hailing one on the street. When hailing a taxi on the street, make sure to stand on the side of a busy street facing traffic. Raise your hand in the air to signal the taxi to stop and pick you up. You will be able to recognize the licensed taxis because all of them are required to display a yellow TAXI sign on top of the roof.
Taxi Stands
If you are uncomfortable hailing a cab from the street there are about 79 taxi stands in the city of Dublin! All of the large taxi stands are open 24 hours a day with additional taxi stands opening between 10:00PM – 6:00AM. The main taxi stands in the city center are located near the main gate of Trinity College, O'Connell Street (near Parnell Square), and on College Green (near the Bank of Ireland).
FAQ's
Should you tip your Taxi Driver in Dublin?
Tipping is not expected when taking a taxi in Dublin but it is very common to round your fare up at the end to the nearest increment of 5.
Can you pay by credit card in Dublin Taxis?
It is not required for the licensed taxis in Dublin to have credit card machines, making only some of the vehicles equipped to handle payment by a card. It is always advisable to have cash on you before you enter a taxi in Dublin.
How many people can a Dublin Taxi hold?
Taxis are licensed to carry up to 4 people at a time.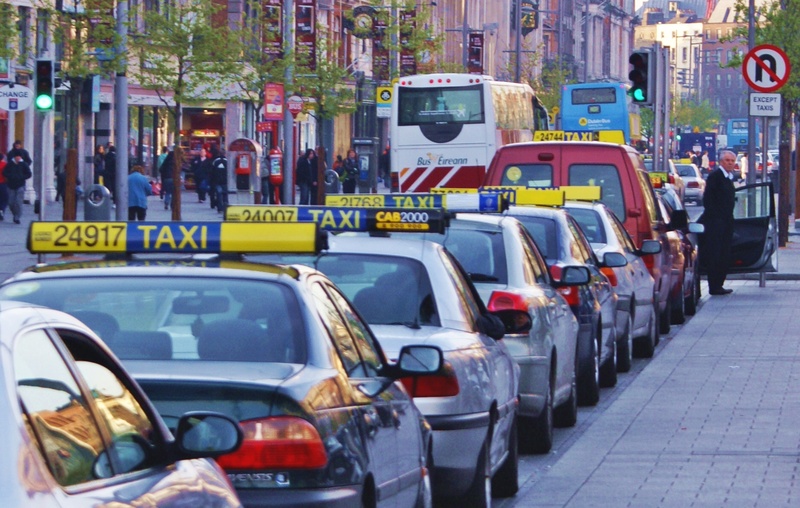 Categories: None