Shannon Airport is one of Ireland's three primary airports, along with Dublin and Cork. In 2014, 1.64 million passengers passed through the airport, making it the third busiest airport in the country after Dublin and Cork. Shannon Airport is in Shannon, County Clare and mainly serves Limerick, Ennis, Galway, and the south-west of Ireland.
In 1936, the Government of Ireland confirmed that it would develop a 3.1 km2 (1.2 sq mi) site at Rineanna for the country's first transatlantic airport. The land on which the airport was to be built was boggy, and on 8 October 1936 work began to drain the land. By 1942 a serviceable airport had been established and was named Shannon Airport. By 1945 the existing runways at Shannon were extended to allow transatlantic flights to land.
The airport is also served by local taxis. There is a taxi rank outside the arrivals entrance. Car hire is available in the arrivals hall of the terminal building, with eight car rental firms operating at the airport. Private-hire coaches and buses are available from many operators such as Eirebus; these need to be pre-booked and can transport passengers to any destination throughout Ireland.
Shannon Airport offers both short-term and long-term parking within the airport with over 5,000 spaces available. All car parks operate 24 hours and are regularly patrolled by Airport Police.
For many years a rail link to the airport (as a spur from the nearby Limerick–Ennis line) has been proposed, but nothing has materialised. The nearest major stations (Ennis railway station and Limerick railway station) require bus or taxi to connect with. Sixmilebridge is the nearest station to the airport. *Official site Irish Rail -train timetables, bookings and operations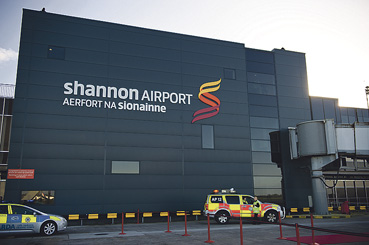 Categories: None