Dublin Airport
is an international airport serving Dublin, Ireland and is operated by daa.[4] It is located 5.4 nmi (10.0 km; 6.2 mi) north[1] of Dublin city near Swords, in Fingal county Dublin. In 2014, 21.7 million passengers passed through the airport,[2] making it the busiest of the state's airports by total passenger traffic. It also has the greatest traffic levels on the island of Ireland followed by Belfast International Airport.
The airport has an extensive short and medium haul network, served by an array of carriers as well as some intercontinental routes focused in the Middle East and North America. It serves as the headquarters of Ireland's flag carrier Aer Lingus, Ireland's regional airline Stobart Air (formerly Aer Arann) and also Europe's largest low-cost carrier Ryanair, along with Air Contractors, together with a fifth airline, CityJet, which doesn't maintain major operations here.
Terminal 1 
The current Terminal 1 building originally opened in 1972, and was initially designed to handle five million passengers per year. The original design included a second pier which would have been identical to the current decagon-shaped boarding Pier B, but this was never built. A car park was originally located on the upper floor of the building, and the access ramps are still in place but it was closed for security reasons in the 1970s and converted into offices. Terminal 1 has been regularly extended and improved over the last two decades.
Terminal 2
Terminal 2 is a 75,000 m2 (810,000 sq ft) terminal and pier (Pier E) which provides 19 air bridges for aircraft and is capable of handling 15 million passengers annually, thereby allowing the airport to handle 35 million passengers a year. The project was designed by Pascall+Watson architects, and the total cost is put at €600 million. Another pier (Pier F) is planned to be built to the south of Terminal 2 when required. The majority of long-haul carriers have moved to Terminal2. 
Safety and security
DAA has its own branch of the Airport Police Service which is mandated to provide aviation and general policing at the airport. The Airport Police Station is centrally located on the Arrivals road between Terminals 1 and 2. The airport also has its own Airport Fire and Rescue Service which provides cover to the entire campus, its roadways and lands. The fire service responds to all aircraft incidents, domestic fires, medical emergencies and road traffic collisions.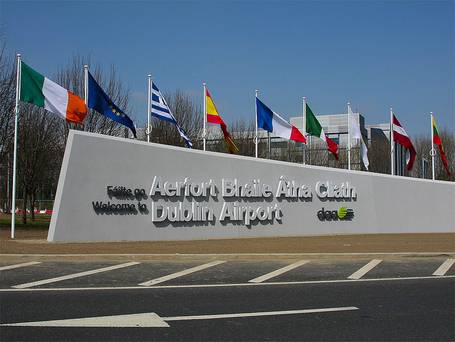 Categories: None